Bishop Rt. Rev. Dr. A. Neethinathan
Catholic Diocese of Chingleput
Bishop Anthonisamy Neethinathan was born on July 3, 1955, in Kakkanur, in Tamil Nadu state's Viluppuram district. He was ordained priest on May 9, 1987, and served as vice rector of Sacred Heart Major Seminary before being appointed bishop of Chingleput on July 19, 2002. His episcopal ordination took place 10 days later on July 29.
He was appointed as the first Bishop of Chingleput. The Diocese of Chingleput comprises of the entire civil districts of Chengleput, Kancheepuram and some part of the district of Chennai. It has 105 parishes and three Independent Shrines. 80% of parishes are in the rural areas. 139 diocesan priests, 70 religious priests and 72 religious congregations serve in the diocese.
We are here to serve you
St. Thomas Mount National Shrine, St. Thomas Mount, Chennai-16.
Fr. Michael A D
Shrine Rector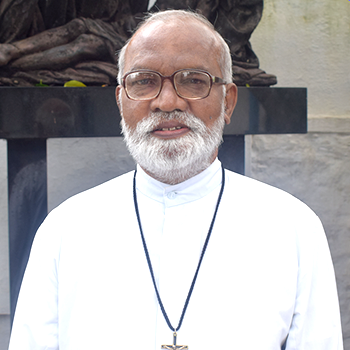 Fr. Joe OMI
Spiritual Director
Subscribe to our Monthly E-Magazine
Get updates from the Shrine or Tell the world your joyful Journey!